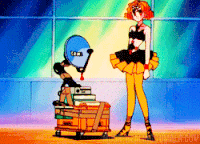 The
Witches Electric Wrap
(ウィッチーズ・エレクトリック・ワープ,
U~itchīzu Erekutorikku Wāpu
) was a device created by
Eudial
at some point in time, but she never used it. The device was, instead, used by
Mimete
. The Witches Electic Warp would increase the user's power, but had a setback: if the plug to the machine was unplugged or if the power went out while the user was inside, the user would be trapped inside forever and would die.
Mimete suffered the setback in episode 120, when Tellu, mad at Mimete for stealing her job, appeared in the shadows while Mimete was in the Electric Warp. Tellu explained why Eudial never used it, and it was due to the setback. Mimete begged Tellu to not pull the power cord, but Tellu replied "Goodbye, idiot", and unplugged the power cord, trapping Mimete inside forever.
Ad blocker interference detected!
Wikia is a free-to-use site that makes money from advertising. We have a modified experience for viewers using ad blockers

Wikia is not accessible if you've made further modifications. Remove the custom ad blocker rule(s) and the page will load as expected.