Strict Sweep

Information
Users
Type

Physical attack

Items Used

Garnet Rod (used as vault)
Strict Sweep
was an attack performed in the two video games,
Sailor Moon S: Jougai Rantou!? Shuyaku Soudatsusen
and
Sailor Moon SuperS: Zenin Sanka!! Shuyaku Soudatsusen
, by
Sailor Pluto
.
Sailor Pluto uses her staff as a vault to launch herself at the enemy with a kick.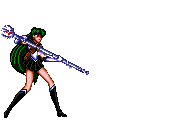 Ad blocker interference detected!
Wikia is a free-to-use site that makes money from advertising. We have a modified experience for viewers using ad blockers

Wikia is not accessible if you've made further modifications. Remove the custom ad blocker rule(s) and the page will load as expected.