The following article is currently being improved for the benefit of all visitors. Pages carrying this template may contain issues which will be fixed as soon as an editor is available to do so. Please bear with us while improvements are being made. Therefore we request visitors to give editors time and patience to work on the page and assume good faith until the edits are complete. We apologize for the inconvenience this may cause in the meantime.

Please be aware that pages which are not given such a chance before this template is removed will be protected until an experienced editor is available to work on the page.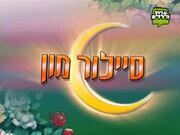 This article is about anything related to Sailor Moon releases in the country of Israel. The anime was released there in 2011.
Translations
Censorship and Changes
Zoisite was given a stereotypically gay voice. While the Sailors said "Wake Up" instead of "Make Up" when transforming, the translators decided to have them still say Wake Up after realizing their error as they felt it had a better ring in Hebrew than "Make Up". Fisheye remained male. All nude scenes were censored by blurring the character's bodies.
Cast
| Voice Actor | Character |
| --- | --- |
| Michal Resheff | Usagi Tsukino up to episode 149 and then from 176 onwards |
| Hadar Shachaf Ma'ayan | Usagi Tsukino from episodes 150-175 |
| Anat Alpan | Chibusa, Black Lady and Light of Hope |
| Maya Bar-Shalom | Luna, Ikuko Tsukino, Petz, Eudial, Cyprine, Ptilol, Sailor Galaxia |
| Elad Samocha | Ami Mizuno from episodes 1-150 |
| Shira Naor | Ami Mizuno from episode 151 onwards |
| Liat Har-Lev | Rei Hino, Unazuki Furuhata in episode 69 |
| Noah Kashapitzki | Makoto Kino |
| Hilly Israel | Minako Aino |
| Tzvika Forman | Mamoru Chiba, Artemis |
| Sharon Shachal | Setsuna Meiou, An,Calaveras,Unazuki Furuhata (bar episode 69)  |
| Avital Abergil | Haruka Tenou |
| Sapir Darmon | Michiru Kaiou,PallaPalla,Sailor Lead Crow |
| Efrat Ben-Israel | Queen Beryl,Esmeraude,Telulu,Zirconia,Princess Kakyuu |
| Orly Katan | Haruna Sakurada,Queen Metalia,Koan,Kaolinite,Queen Nehellenia,CereCere,Sailor Aluminum Seiren |
| Guy Roshiniack | Jadeite,Kunzite,Ail,Wiseman,Prince Demande,Ein-Namer,Grandpa Hino in season 2 |
| Liron Lev | Kenji Tsukino,Shingo Tsukino,Nephrite,Rubeus,Ein-Dag,Motoki Furuhata in season 2,Souichi Tomoe in season 5 and Kou Seiya |
| Yuval Garbash | Zoisite and Motoki Furuhata in season 1 and Grandpa Hino in season 1. |
| Eitan Greenburg | Gurio Umino,Saphir |
| May Jacobson | Naru Osaka,Berthier,Mimete,Viruit,Diana,JunJun,Sailor Archabat Bazel,Sailor Tin Nyanko |
| Yuval Segal | Souichi Tomoe in season 3, Ein-Ait, Granpa Hino (in season 3) |
| Orly Tagar | Hotaru Tomoe/Messiah of Silence |
| Sa'ar Badishi | Yaten Kou |
| Michael Einav | Taiki Kou |
Ad blocker interference detected!
Wikia is a free-to-use site that makes money from advertising. We have a modified experience for viewers using ad blockers

Wikia is not accessible if you've made further modifications. Remove the custom ad blocker rule(s) and the page will load as expected.