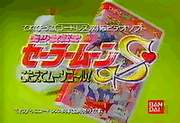 Sailor Moon S - Kotaete Moon Call is a video game released by Bandai in 1994 for the telebikko.
Overview
The game follows the continuity of the Sailor Moon anime and involves the player helping the Sailor Senshi ask questions that are given to them by the Daimon Quiz.
Gallery​
Ad blocker interference detected!
Wikia is a free-to-use site that makes money from advertising. We have a modified experience for viewers using ad blockers

Wikia is not accessible if you've made further modifications. Remove the custom ad blocker rule(s) and the page will load as expected.