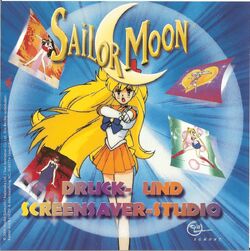 Sailor Moon - Druck und Screensaver-studio is a program where you can create your own Sailor Moon screensaver and poster. It was created by Egmont Interactive GmbH for Windows. It was only released in Germany.
Screensavers & Posters
The point of the program is to create your own Sailor Senshi screensaver and poster. If you create a screensaver you get to keep it on your computer, if you create a poster you can print the image and save the poster in your computer. You can use all the characters from the German dub of Sailor Moon for example Sailor Moon and the Sailor Senshi and even Queen Beryl.
Trivia
The cover features Sailor Venus just like for Sailor Moon - Horoskop & Games it featured Sailor Mars
Some people mistake this program for a game
Gallery
External Link
sailorvgame.org/mg/au/egmont.htm
Ad blocker interference detected!
Wikia is a free-to-use site that makes money from advertising. We have a modified experience for viewers using ad blockers

Wikia is not accessible if you've made further modifications. Remove the custom ad blocker rule(s) and the page will load as expected.