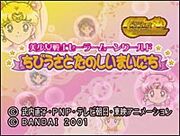 Sailor Moon: Happy Chibiusa World is a video game released for the Playstation by Sony in 2001 in Japan.
Overview
The game is centered mostly around Chibiusa and consists of several educational mini-games. The official CD comes with a custom joystick that allows the player to press buttons with their palm instead of their finger, thus making it easy for little children to play the game.
Gallery
Ad blocker interference detected!
Wikia is a free-to-use site that makes money from advertising. We have a modified experience for viewers using ad blockers

Wikia is not accessible if you've made further modifications. Remove the custom ad blocker rule(s) and the page will load as expected.