Sailor Mars
Talk

0
1,640pages on
this wiki
The following article is currently being improved for the benefit of all visitors. Pages carrying this template may contain issues which will be fixed as soon as an editor is available to do so. Please bear with us while improvements are being made. Therefore we request visitors to give editors time and patience to work on the page and assume good faith until the edits are complete. We apologize for the inconvenience this may cause in the meantime.

Please be aware that pages which are not given such a chance before this template is removed will be protected until an experienced editor is available to work on the page.
Sailor Mars

セーラーマーズ (Sērā Māzu)

Biographical
Alignment
Resides in

Tokyo, Japan

Occupation

Miko, Student

Aliases

Rei Hino, Sailor Mars, Princess Mars

Forms

Sailor Mars, Super Sailor Mars, Eternal Sailor Mars

Associates
Personal
Gender

Female

Species

Human

Production
Related Pages
"The Guardian of Fire and Passion Sailor Mars! You will refrain from underestimating women! And with Mars Power, you will burn! These high-heeled legs will deliver your punishment!"
— Sailor Mars's speech in Act 5.
Sailor Mars
(♂) is one of the five original Inner
Sailor Senshi
of the Solar System. Her civilian identity is
Rei Hino
(
Raye Hino
in the English adaptions), and is the second member of the Senshi to be discovered by
Usagi Tsukino
. Her powers are associated with Fire.
Throughout the various incarnations of the series, Sailor Mars was given various titles and/or referred to herself with various titles. They include: "Soldier of War", "Soldier of Flame and Passion" under the guardianship of the "Fire Planet", (and depending on the continuity), "Soldier of Flame", and "Soldier of Passion." She was also called "The Guardian of War" by Neo-Queen Serenity.
Awakening
Edit
Rei's awakening as Sailor Mars in the manga was shown in Act 3. After Rei and Usagi were transported into another world with victims of the kidnappings, Luna sent Ami to help Usagi. Rei was caught by Jadeite, and Usagi transformed into Sailor Moon and used Moon Frisbee, freeing Rei and restraining Jadeite. Luna orders Sailor Mercury to throw the extra pen she had given her earlier. As the pen passes by Rei, the symbol of Mars appears on her forehead, transforming her into Sailor Mars. She calls Phobos and Deimos, and performs Akuryo Taisan, turning Jadeite into dust. The Sailor Senshi are transported, along with the other victims of the kidnappings. Luna and Sailor Moon claim they are happy that they have found the third Senshi.
Appearance
Edit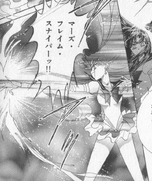 Transformations
Edit
Weapons and Items
Edit
Development
Edit
Like the other members of the Sailor Senshi, Sailor Mars's original design were fully unique. It featured an alternate bow, double shoulder guards, plate-armor, elaborate jewelry, and a gold rimmed mask. Her trademark high-heeled shoes were also already present. Also, the red pendant worn on her belt was also going to be worn on a necklace in her civilian form and could also produce fire. Originally, she could also shoot fire laser beams from her fingertips. Another note stated that in her civilian form, her eyes were always purple while in her Senshi form, her eyes were red.
It is noted that her outfit as Sailor Mars echoes the color of miko robes, making the character most tied into tradition.
Sailor Senshi
Inner Sailor Senshi
Outer Sailor Senshi
Civilian Identities