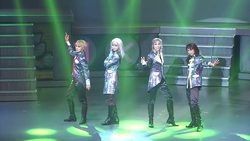 Pandemic 4
was a boy band that appeared in the musical,
Pretty Guardian Sailor Moon - La Reconquista
. The group consisted of
Kunza
,
Jed
,
Nephra
, and
Zoi
, but they were actually the
Shitennou
in disguise.
The band appeared in the Pandemic Love game, in which they used the game to drain energy for Queen Beryl, and had one song, Erosion Boy.
Gallery
Ad blocker interference detected!
Wikia is a free-to-use site that makes money from advertising. We have a modified experience for viewers using ad blockers

Wikia is not accessible if you've made further modifications. Remove the custom ad blocker rule(s) and the page will load as expected.