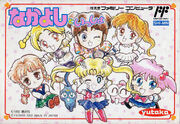 Nakayoshi to Issho is a video game released for the Nintendo game console in 1993 by the shojo manga magazine Nakayoshi.
Overview
The villain Rakira has stolen the pens of the creators of Nakayoshi's most famous titles; Goldfish Warning, Pocket Park, MinMin, Taiou ni Smash! Kurumi-chan to Shichinin no Kobitotachi and Sailor Moon, which is the longest and most difficult. The combat is luck-based and saving the game can be difficult at times.
Gallery​
Source
Ad blocker interference detected!
Wikia is a free-to-use site that makes money from advertising. We have a modified experience for viewers using ad blockers

Wikia is not accessible if you've made further modifications. Remove the custom ad blocker rule(s) and the page will load as expected.