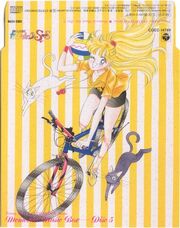 The fifth disc of the Sailor Moon Memorial Music Box. covered the music from the fourth season. It included the television edit to the third rendition of the opening and the fifth ending. The final track was a bonus track.
Track List
#
Song Title
Song Version
1

"Crystal Forest"

M27, M27
2
"Moonlight Densetsu (Moon Lips)"
Opening 2 (TV Edit) mono
3
"SMS Subtitle Music"
M1
4
"Chibi-usa no Omoi"
M33, M33?
5
"Chibi-usa and Usagi"
M28, M29, M30
6
"Dead Moon"
M13, M15, M14
7
"Amazon Trio"
M16?, M16, M43
8
"Amazon Trio Trap"
M17, M18, M19
9
"Yureru kokoro"
M35, M45, M47
10
"Kokoro no naka no zoku"
M51, M52
11
"Lemures"
M41, M53, M54, M55
12
"Cheating Death"
M40, M40?
13
"Pegasus"
M24, M347
14
"Moon Crisis, Makeup!"
M9, M12, M11
15
"Koi wa Lonely Heart"
M5
16
"Watashitashi ni Naritakute"
"Wanting to Be Together (Mawako Fujitani)"
ED5
17
"SMSS Eyecatch Music"
M2, M2?
18
"Pegasus and Chibi-usa"
M23, M23?, M26
19
"Chibi-usa, Believe in Pegasus"
M6, M8
20
"Amazoness Quartet"
M20, M21
21
"Death Moon Attack"
M37, M49, M50, M36, M57
22
"Crystal Power, Makeup!"
M59, M10, M7
23
"SMSS Preview Music"
M4, M3
23
"'Rashiku' Ikimasho"
"Let's Go As We Are"
Instrumental Version ED6
Ad blocker interference detected!
Wikia is a free-to-use site that makes money from advertising. We have a modified experience for viewers using ad blockers

Wikia is not accessible if you've made further modifications. Remove the custom ad blocker rule(s) and the page will load as expected.