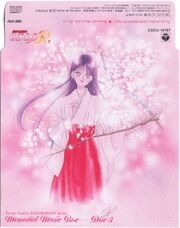 Disc 3 of the Sailor Moon Memorial Music Box.
The third disc of the box covered the music from the second season. It included the television edit to the third ending as well as instrumental version of three songs. The final track was a bonus track.
Track List
#
Song Title
Song Version
1
"In Memory of the Senshi"
M101, M133
2
"Otome no Policy"
Instrumental Version
3
"Usagi"
M113, M107
4
"Hottokenaiyo"
"Can't Leave You Alone"
Instrumental Version
5
"Alien"
M129C, M128D, M130
6
"The Monster World's Origin"
M132, M127
7
"Black Moon"
M126, M125, M131, M131B
8
"Sailor Moon R Eyecatch Music"
J11 ?, M105A
9
"Usagi and Mamoru"
M117, M117B, M120, M119
10
"Suki to Itte"
"Say You Love Me"
Instrumental Version
11
"Chibi-usa"
J10 ?, M135, J12B +F5B, M105B
12
"Bridging the Loneliness"
M114, M114B, M115 + M118
13
"Sailor Pluto"
M103, M103B, K1
14
"Black Moon Attack!"
M129A, M116, M134B, M134, M123
15
"Moon Crystal Power, Makeup!"
M109, M136, M110, M111
16
"Love"
M122, M121
17
"Setting Sun"
(M108, M106
18
" Otome no Policy (Yoko Ishida)"
ED3 [TV edit]
19
"SMR Preview Music"
M110
20
"Otome no Policy [band version]"
N/A
Ad blocker interference detected!
Wikia is a free-to-use site that makes money from advertising. We have a modified experience for viewers using ad blockers

Wikia is not accessible if you've made further modifications. Remove the custom ad blocker rule(s) and the page will load as expected.