Mars Planet Power! Make Up!
was the third evolution and transformation phrase that
Rei Hino
used to transform into
Sailor Mars
in the Infinity arc of the manga and the third season of
Sailor Moon Crystal
.
Manga
No item was used in the transformation. All she did was lift her hand in air and shout the phrase.
Crystal
The planet Mars appears and Rei puts her hand in the air. Her fingernails sparkle bright red, her Star Power Stick comes to her hand.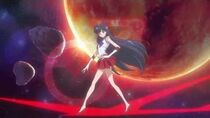 Ad blocker interference detected!
Wikia is a free-to-use site that makes money from advertising. We have a modified experience for viewers using ad blockers

Wikia is not accessible if you've made further modifications. Remove the custom ad blocker rule(s) and the page will load as expected.