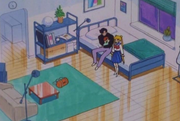 Mamoru's Home is in an apartment building in Tokyo.
Appearance
Mamoru lives by himself in what appears to be a studio apartment with a conjoining living room and bedroom and an adjoining kitchen. There appears to be at least two windows, one under which Mamoru's bed is placed. The bed has a white frame, a white sheet and pillow and a green blanket. The same window has green shades, and on the window sill is a potted plant that resembles a cactus. His walls are white and the floor looks like polished wood, on the walls are pieces of framed art and a small clock. In the room there is a green carpet which a small table and a beige couch sit on. Beside his bed is a blue cart that doubles as a shelf with books, another plant, a box and what seems to be a plate.
Ad blocker interference detected!
Wikia is a free-to-use site that makes money from advertising. We have a modified experience for viewers using ad blockers

Wikia is not accessible if you've made further modifications. Remove the custom ad blocker rule(s) and the page will load as expected.