Hissatsu Love-Me Moon Chain

必殺ラブミー・ムーン・チェーン
Hissatsu Rabumī Mūn Chēn
Information
Users
Type

Energy-Chain-based attack

Items Used
First Appearance
Hissatsu Love-Me Moon Chain
is an attack used in episode 102 of the anime while
Minako
was disguised as
Sailor Moon
. In essence, it was 
Venus Love-Me Chain
with an altered battle cry.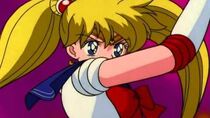 Trivia
"Hissatsu", in Japanese, means "definite kill". In English, the attack's name would be translated as "Definite Kill Love-Me Moon Chain."
The attack was never named in the Cloverway English dub.
In the Viz dub it was called Moon Love Me Moon Chain.
This is the only attack in the original anime that was used while a Senshi was in disguise.
Ad blocker interference detected!
Wikia is a free-to-use site that makes money from advertising. We have a modified experience for viewers using ad blockers

Wikia is not accessible if you've made further modifications. Remove the custom ad blocker rule(s) and the page will load as expected.