Pretty Soldier Sailor Moon
(美少女戦士セーラームーン/
Bishoujo Senshi Sailor Moon)
is a
video game
released for the
Super Famicom
  in Japan by
Angel Studios
on August 27, 1993.The game was officially translated into French and released in France by Bandai S. A. in 1994.
Overview
The game is a side-scrolling type game, where the player goes through levels beating enemies using punches, kicks, or special attacks. Each Senshi has two special attacks that are performed by a combination of buttons. Five Inner Senshi are available as playable characters. The game supports one player and two player cooperative mode.
Throughout the game, the player can find different items. Food items restore some of the life meter; some food items will only replenish some of the life meter while others will refill the entire life meter. Usually small food items give small amounts of life, while pieces of cake refils all of the player's life.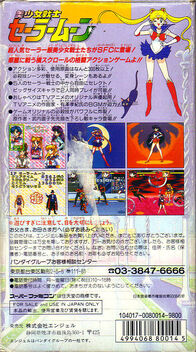 Stages and Enemies
There are five stages in the game, most of which are made up of two sub-stages. At the end of each stage is a boss fight. The enemies fought throughout the stages primarily include Akan, Garoben, Jiji, and Gesen. To a lesser extent, Jumeau also appears, along with three original Youma characters designed by Naoko Takeuchi: HiraHira, MuchiMuchi, and GoroGoro.
Attacks
Sailor Moon
Sailor Mercury
Sailor Mars
Sailor Jupiter
Sailor Venus
Gallery​